Driven Cellars Gift Card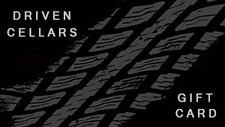 Want a gift that shares your enjoyment of our wine, a Driven Cellars Gift Card is the perfect way to do that! Our Gift Cards are for you if you want to give something a little bit different than the average gift. We have several different denominations that will fit just about any budget.
*Driven Cellars Gift Cards are an E-Gift Card. If you want the Gift Card code sent to yourself just leave the alternate shipping information blank. You will receive a conformation email regarding the gift card purchase.
If you would like to have us send an email to the person you're giving the gift card too. All you have to do is fill out the alternate shipping information, at check out, which you can also include a gift message for the recipient. Their email will include your gift message (if one was written) as well as a unique gift card code that they will use electronically to purchase off of the website.
**California wineries are not permitted to ship wines to the following states: Alabama, Delaware, Kentucky, Mississippi, Oklahoma, Pennsylvania, South Dakota and Utah.